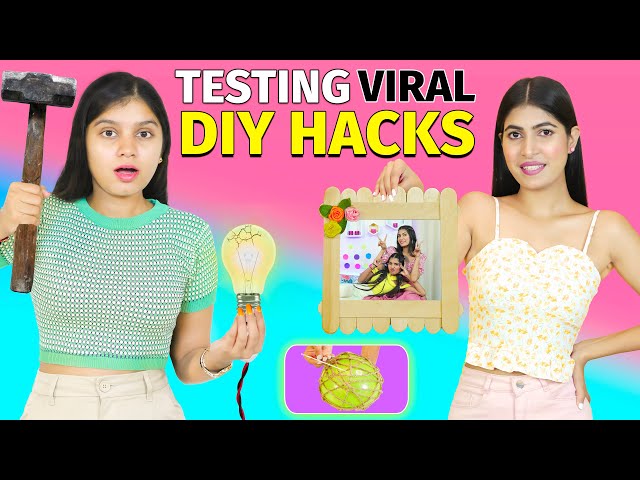 Testing Out VIRAL DIY Hacks | Expectation vs Reality | DIYQueen New 2022
#diy #fashion #videos #handmade #love #video #art #style #music #homedecor #photography #instagood #photooftheday #design #beautiful #instagram #woodworking #hiphop #interiordesign #travel #youtube #home #picoftheday #film #wood #model #funny #decor #happy #beauty
Hi friends, In today's video we have tested some viral DIY's that you must have seen which is made from stick, plastic waste just like from reusable and recyclable products, made from cheap products, easily available products at home, Ice cream sticks, glue gun, flowers, thermocal balls The products we made are DIY Photo Frame, DIY Bulb, DIY Night lamps. You can make these DIY to git someone on festivals like Diwali, Friendship Day, Dussehra also you can decor your house. These beautiful DIYs are not so costly, made from waste products, beautiful plants. We are sure you all gonna love this video a lot.
Also , If you like the video then do Like, Share & subscribe our channel.. 🥺💕
Subscribe to DIY Queen – https://bit.ly/2UXOXIz
NEW UPLOADS on every WEDNESDAY at 5:30 PM.
CREDITS:
Artists : Anupama Pal & Jeetusri
Chanel Coordinator – Akanksha Pal
DOP & Cameramen : Deepak Mathuria
Support Staff : Kiran & Sagar
Editing :Shubham Raj Verma & Dravya Jain
Promotions : Komal Sharma
Channel Head: Vikram Choudhary
Powered By: http://spiceupmedia.com
————————————————————–
ABOUT THE CHANNEL:
DIY Queen is your one-stop for all things DIY-ed, crafted & fun experiments. Here, you can save yourself from burning a hole in your pocket when it comes to following the latest fashion trends, beauty trends, house decor ideas, affordable room decor ideas, designing inspiration, back to school stationery ideas, shopping tricks and all things lifestyle focused. In DIY Queen videos, Priyanka and Jeetu share hacks, listicles as well as compete against each other to do funny challenges and dares while entertaining the viewer through their non-stop comedy & commentary. From restyling clothes to reusing them, our two jugadu girls know all the 5-minute-hacks there are to know. If you like creating things with your own hands, wearing affordable fashion, learning new fashion tips & tricks as well as shopping hacks, then DIY Queen is going to be your number one source of learning via entertainment. Not only that, all the challenges are time-based and the losing girl has to do a punishment that will leave you laughing for days. Dares, punishments and tons of comical commentary are what you'll find as add ons on our DIY Queen channel. We publish lifehacks, fashion hacks, DIY projects & DIY activities, tutorials, How-To Videos, Handcrafted items & fashion & beauty hack videos every Wednesday & Saturday at 5:30 PM so you know when to keep yourself free!
—————————————————————————————-
Our Social Media
Facebook:https://www.facebook.com/Anaysa.IN
YouTube: https://www.youtube.com/c/DIYQueenIndia
———————————————————————-
About SpiceUp Media Company
SpiceUp Pvt Ltd is a digital media company that owns six YouTube channels, including Anaysa, DIY Queen, Shruti Arjun Anand, Shruti Shorts & Toy Stars.
As a digital media company, we aim to create interactive & engaging content that entertains as well as informs. We deliver original, humorous & interactive content in various genres such as entertainment, fiction sketches, fashion, beauty, DIY & crafts, kids & parenting. Like a spice that subtly enhances flavours, we create stories that leave a lasting impression in your mind.
By using innovative content to reach out to our audience, we hope to provide lifestyle-enhancing information and propel brands towards their goals. To effectively serve people of all ages and interests, we are always evolving and adapting to the current trends.
We have been honoured to feature in prestigious publications such as Forbes, YourStory, Social Samosa, Times of India, Her Story, Scoopwhoop, The Economic Times & many more.
Evolving through the latest trends of entertainment and influencing behaviour, we partner with consumer brands to propel brand development and brand marketing through lifestyle-enhancing information. Over 100+ D2C brands have effectively communicated with their TGs.
Read about us at https://spiceupmedia.com/
Instagram: https://www.instagram.com/spiceupmedia.in/
DISCLAIMER: The information provided on this channel and its videos is for general purposes only, doesn't intend to hurt anyone sentiment religion, etc., and should not be considered as professional advice as These videos are for Fun. All the content published on this channel is our own creative work and is protected under copyright law and in case you need to use our content for any purpose please write to us – [email protected]
Disclaimer: This video is the intellectual property of DIY Queen which is owned & managed by SpiceUp Media.
Website: https://spiceupmedia.com/
#DIYQueen #testingviraldiy #expectationvsreality #diyphotoframe #diybulb #diylampideas #diylamp #diy #passorfail #goodvsbad #wastematerialcraft #recycle #reuse #recreation #homediy #diyideas #diyqueennewvideo #trending #trendingvideo #testingviralhacks
Testing Out VIRAL DIY Hacks | Expectation vs Reality | DIYQueen New 2022